Hello all!
I hope that this is ok. Since Michelle was nice enough to make this donation I would love to see the bidding go high so she can see her generosity really making a difference.
While appearing at NYCC in 2010 Michelle Forbes was kind enough to donate an autograph to be auctioned off for
Broadway Cares/Equity Fights AIDS
. In addition to helping people living with HIV/AIDS BC/EFA is also a major supporter of
The Actor's Fund
(which helps members of the entertainment industry during times of crisis) and the
Phyllis Newman Women's Health Initiative
(which helps women in the entertainment industry w/preventing and living through Breast, Cervical and Ovarian Cancers).
Michelle personalized the message adding "Please help support Broadway Cares."
This item is 100 percent tax deductible and every dollar raised can help people who may feel there is no help to be found.
Please consider making a bid
HERE
.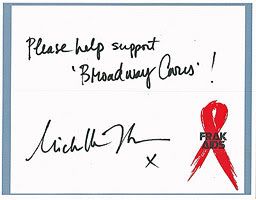 I also have created a small store on Zazzle with BSG & AIDS & Breast Cancer support merchandise
HERE
. All profits will also be donated to BC/EFA.
And if you would like to see my fundraiser it is located
HERE
.
Thank you so much!!
Current Mood:
hopeful